The Alberta Disability Workers Association (ADWA) is a provincial advocacy organization for all people employed in Community Disability Services who provide essential services to Albertans with disabilities.
Alberta's Community Disability Services are in a staffing crisis.
Workers paid to support people with disabilities have not seen a wage increase since 2014 (despite an increase in the cost of living of 14% over the past eight years). They are feeling stressed and undervalued and many are choosing to leave their jobs for other employment where they will be properly compensated for their skills and valuable contributions.
The low wages and retention rates are of serious concern to community-based employers who are struggling to recruit and retain qualified staff to provide essential services to Albertans with disabilities.
In support of Community Disability Service Workers, ADWA has launched a provincial campaign to advocate for a 25% increase to current wages.

The Essential but Forgotten Campaign is now in full swing. Much of the success of this campaign will be determined by the number of voices heard by the Government of Alberta. Please do what you can to support this essential wage increase. Stay involved through the ADWA Website and ADWA Social Media accounts (Facebook, Twitter, Instagram). Every post shared, letter written and conversation had, will help raise awareness and have a positive impact on this campaign.
If you have stories you are willing to tell or quotes you are willing to share, please send them to campaign@adwa.ca.
Thanks in advance for your active involvement!
Click to View the Results of Worker Survey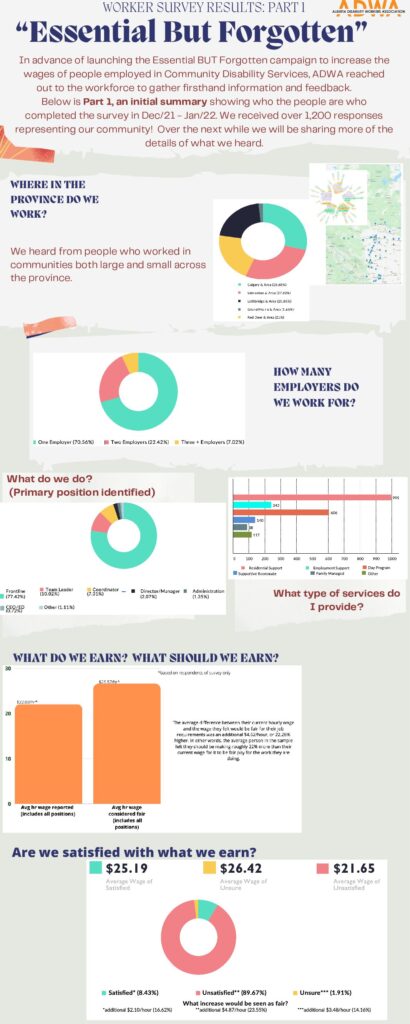 See Also: What is Expected of a WIN Employee?