Staff Appreciation
Years of Service Awards at 36th Annual AGM
When You Love What You Do, You Never Have to "Work"
This is our wish for YOU. That you never have to work a day in your life.
YOU are:
Loved
Valued
Appreciated
Respected
And Absolutely Essential
Every. Single. Day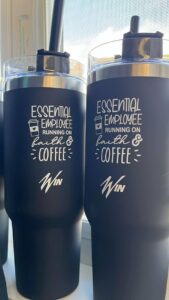 The province of Alberta has set aside May 22 – 28, 2023 to recognize and appreciate Community Disability Service Workers. We are thrilled to see our beloved direct supports receive this recognition, and we want you to know that you are appreciated
Every. Single. Day
Words of Appreciation
Text message from Parent Leanne Huppertz after a very big improvement. Shout out to Team CC-BH!
Have seen a real change in him. That's from the great workers that he has.

---
Note from:
Patty Chizma
PDD Contract Specialist
Regional Support Services
Seniors, Community and Social Services
Please pass on my thanks and appreciation for everyone's hard work!

Patty
---
Susan got a little wordy (as Susan sometimes does) WOW what wonderful words she got wordy with – click below:
---
From: LVKM Team Leader Jennifer Evans
The appreciation I feel for not only my teammates at LVKM but for all of my co-workers at WIN can not be expressed easily with words. I have worked in this field for many years and I have never seen a group work together harder to achieve not only their own goals but to help the individuals that we serve to achieve their goals too. I have seen you all work through tough days full of confusion, yelling, messes, sometimes even violence and we show up the next day with a smile on our face and ready to help them achieve greatness. Because between all that confusion, yelling and messes there are smiles, laughs, and his achievements, and those are in large part due to YOU! To YOU who choose to show up! To You who choose to help them find their voices! To YOU who continue everyday to show everyone we all have the same rights! To YOU I thank you.

And to the LVKM team thank you so much for staying so consistent through tough times! Always willing to jump in and try new techniques to overcome challenges. Always willing to cover shifts and change shift times. You all are great and the guys think so too!! LV tells me all the time who he likes. Keep up the great work!!! The world needs more support workers like you!!!

Jenn

---
From: SIL Team Leader Zoey Douglass
1030 team is always willing to jump around and make things work, especially in a pinch! I love my team for always being there and doing the best they possibly can in any situation. They always have a good attitude and able to laugh with each other. The support from our team for each other is incredible! Thank you guys for being fantastic
---
From: EG/KG and JR/JS Team Leader
To my awesome, wonderful, amazing, beautiful team:

I just want you all to know how much I appreciate every single one of you. You guys are some of the most supportive people I know and you have made becoming a new team leader less daunting of a role! I can see how much of a difference you make in the lives of the individuals we serve. You are all such amazing role models and never fail to enrich the lives of those around you. And not only are you supportive with the individuals we serve, but supportive with each other. Often, we are the ones needing taking care of! When we need someone to vent our frustrations to, to cover a shift when we aren't feeling well, to offer a smile and some encouraging words when we've had a bad day, I can always count on my team to help me out and that is so important! I appreciate you all SO much. We are all so unique and special, it is our individual strengths and talents are what make this team so strong. It is so hard to put it into words how much I appreciate you all for your strength and guidance. I've been blessed to be a part of this team of beautiful, strong, and likeminded women. It has been my pleasure to work alongside you all in this crazy program!

-Veronique Lusson


---
From: AE/EJ Team Lead
I would like to express my appreciation to all of you for the excellent work you do. Effort and hard work are paramount to our success, and it is all of you that make what we do possible. Your dedication shines through everything you do, and your efforts have made a real difference to the individuals we serve. WELL DONE EVERYONE!

For all you give,
for all you do,
For working hard,
for being you.

For being there,
day in, day out…
THANKS is what
today's about.

I LOVE AND ADORE YOU ALL!!

Your favorite Team Leader

Stephanie
---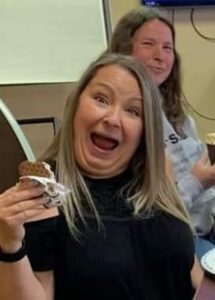 From: LST and RRJ Team Leader Jennifer Parsons
LST&RRJ Teams- you guys blow my mind every single day! I have never been a part of such a strong team before. You guys show up every day with smiles on your faces not knowing what fun awaits you through the day and work together through all the ups and downs so amazingly well. I sincerely appreciate, and value each and every one of you. YOU matter!

Jennifer Parsons
---
From:  CPR/RC Team Leader
Words cannot describe the appreciation that I have for the dedication my team has for the individuals that we serve. Each team member bringing their own unique personality and strengths to all different areas of the work that we do. They build each other up and push each other to be their very best. We are bonded in friendship, respect, passion, kindness, and love, through this they have enriched the life of the individuals and their families. Thank you for all you do and all that you are.

Amanda McDonald
CPR/RC Team Lead

---